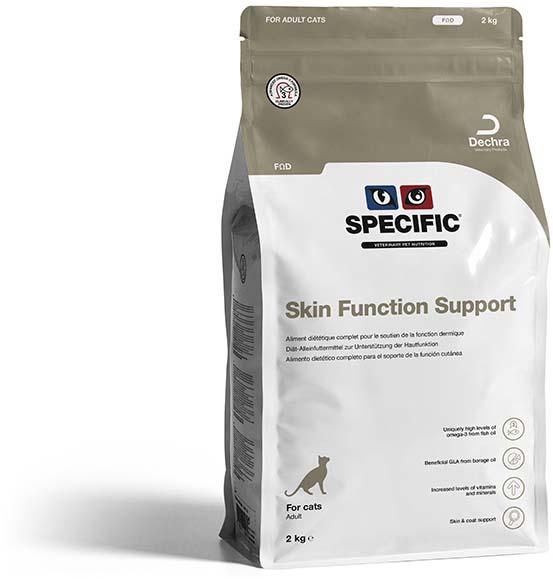 SPECIFIC™ Skin Function Support is a complete dietetic pet food for adult cats which supports the skin function in cases of dermatitis and excessive loss of hair.
| | |
| --- | --- |
| Ingredients: | Fish meal, maize protein, maize, wheat, rice, fish oil, pork fat, cellulose powder, animal protein hydrolysate, potato protein, maize starch, minerals (including tripotassium citrate), vitamins and trace elements (including chelated trace elements), methionine, ammonium chloride, borage oil, psyllium husk, taurine. With natural antioxidants (tocopherols, rosemary extract and vitamin C). Contains no added artificial colours or flavourings. |
| Recommended for | Allergic dermatitis caused by atopy or flea allergy. Skin and coat problems responsive to increased dietary levels of polyunsaturated fatty acids; and vitamins and minerals. Osteoarthritis. Conditions which improve on high levels of omega-3 fatty acid intakes suchas cancer related cachexia, neoplasia, renal disease and immune-related disorders and inflammatory conditions such as arthritis and colitis. Daily diet for healthy cats. |
| Not recommended for | Immuno-deficient cats. Cats with coagulation abnormalities. Cats with hyperlipidaemia |
| Pack size(s): | 2kg, 3x2kg, 400g |
Immune & joint support: Uniquely high levels of omega-3 fatty acids EPA and DHA from fish oil. These fatty acids can affect the immune response and processes in the body by altered eicosanoid production and support the skin and coat condition in cats with atopy.
Joint & immune support: Uniquely high level of the omega-6 fatty acid GLA from borage oil. Also GLA can affect the immune response and process in the body by altered eicosanoid production.
Skin & coat support: The skin has an active metabolism and a high demand for several skin-related nutrients. The increased levels of fatty acids, vitamin A, E, and B complex, zinc and selenium can support the health of skin and coat.
Easy feeding: The diet is very palatable and is a very convenient way to provide the cat additional fatty acids.