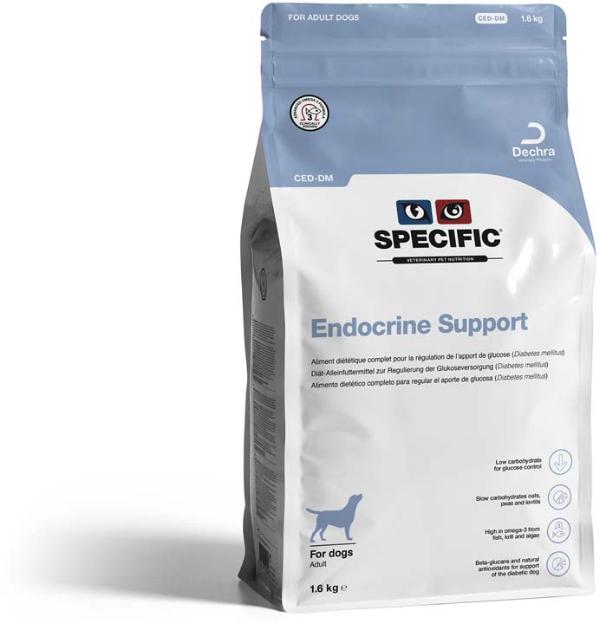 SPECIFIC™ Endocrine Support is a complete dietetic pet food for adult dogs for regulation of glucose supply (Diabetes Mellitus) and lipid metabolism in case of hyperlipidaemia. Contains high levels of omega-3 fatty acids derived from fish oil and added ß-1,3/1,6-glucans in order to provide support of the immune response.
| | |
| --- | --- |
| Ingredients: | Fresh fish, oat flour, pea starch, hydrolysed salmon protein, maize protein, potato protein, lentils, beet pulp, fish meal, pork fat, pea fibre, fish oil, Antarctic krill, animal protein hydrolysate, egg powder, vitamins and trace elements (including chelated trace elements), algae meal, fructo-oligo-saccharides, psyllium husk, taurine, yeast (source of ß-1,3/1,6-glucans), methionine, L-carnitine, green tea extract, pomegranate extract, cranberry extract. With natural antioxidants (tocopherols and vitamin C). Contains no added artificial colours or flavourings. |
| Recommended for | Diabetes mellitus. Hyperlipidaemia. Nutritional support of healthy blood levels of glucose and lipids, normal blood pressure, optimal skin condition and body weight and supporting the immune response towards recurrent infections in dogs with endocrine disorders as diabetes mellitus, hypothyroidism or hyperadrenocorticism (Cushing's disease). Constipation, fibre-responsive colitis. |
| Not recommended for | Young, fast growing puppies. Pregnant or lactating bitches. |
| Pack size(s): | 2kg, 12kg |
| Datasheet: | Download get_app |
A low content of carbohydrates, derived from slow release CH sources oats, peas and lentils, and an increased level of fibre to promote gradual release of glucose from the diet to reduce postprandial hyperglycemia for support of patients with diabetes mellitus.
Uniquely high levels of the omega-3 fatty acids EPA and DHA from fish oil, krill and algae. High intake of omega-3 fatty acids has shown to regulate blood lipids in case of hyperlipidaemia, help maintain normal blood pressure and support insulin sensitivity. These fatty acids can affect the immune response natural production of eicosanoids which have effects on different processes in the body and supports healthy joints, skin and coats.
Contains ß-1,3/1,6-glucans from yeast, and increased levels of zinc, selenium and omega-3 fatty acids to support the immune status. Beta-glucans can bind to macrophages and alert the immune system, thereby supporting the immune response, affecting natural cytokine production and helping in maintaining glycemic control.
Diabetes mellitus is associated with oxidative stress, which is involved in the development of diabetic complications. High dietary levels of antioxidant substances such as vitamins A, E and fruit extracts help to neutralise the reactive oxygen species.
With fermentable fibre to support a healthy microbiome.