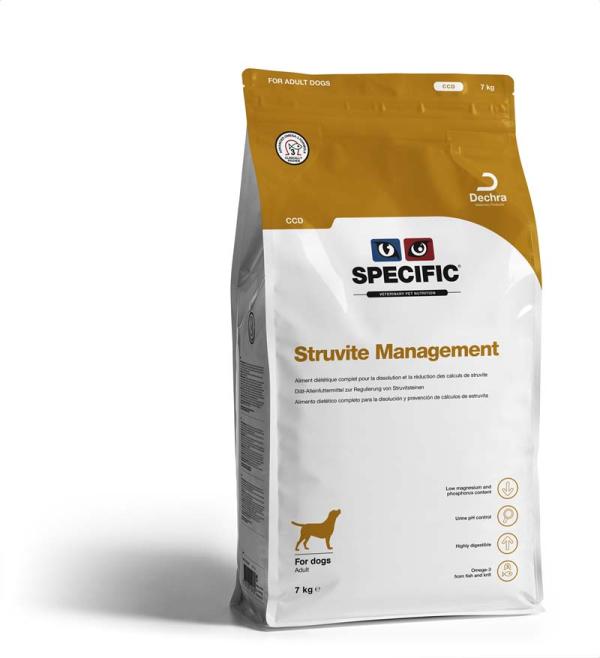 SPECIFIC™ Struvite Management is a complete dietetic pet food for adult dogs for dissolution of struvite stones and reduction of struvite stone recurrence.
| | |
| --- | --- |
| Ingredients: | Maize starch, wheat, maize protein, pork fat, maize, egg powder, minerals, fish meal, animal protein hydrolysate, potato protein, Antarctic krill, vitamins and trace elements (including chelated trace elements), cellulose powder, yeast, methionine, fish oil, psyllium husk, rosemary extract. With natural antioxidants (tocopherols and vitamin C). Contains no added artificial colours or flavourings. |
| Recommended for | Dissolution and reduction of recurrence struvite uroliths in adult dogs. |
| Not recommended for | Urolithiasis due to calcium oxalate, ammonium urate or cystine. Simultaneous administration of urinary acidifiers. Metabolic acidosis. Dogs with hyperlipidaemia or pancreatitis. Puppies and pregnant or lactating bitches. |
| Pack size(s): | 2kg, 7kg, 12kg |
| Datasheet: | Download get_app |
Dissolution & reduced recurrence of struvite: The diet has a reduced content of magnesium and phosphorus (components of struvite crystals) for dissolution and reduction of recurrence struvite crystals and stones
Urine pH control: A urine pH below 6.4 dissolves existing struvite crystals and minimises the risk of precipitation of new struvite crystals.
High digestible: High quality and highly digestible ingredients ensure a maximum uptake of nutrients from the diet, whilst reducing faecal output
Joint, skin & coat support: EPA and DHA are both omega-3 fatty acids with a beneficial effect on the maintenance of healthy joints, skin and coats